USA ONLY (Not available in Canada)
Upgrade your blending experience with the all-new Kuvings Vacuum Blender. The Kuvings Vacuum Blender creates fresher, longer-lasting beverages by removing air from the container before blending. This prevents air from mixing in with ingredients, resulting in reduced oxidation and maximized nutritional value. The noise reduction shield with built-in vacuum pump keeps the blending process quiet. Includes a to-go tumbler to vacuum seal beverages. For more nutrients, vibrant colors, crisp flavor, and maximum freshness, choose the Kuvings Vacuum Blender.
- Vacuum blending system removes air before blending.
- Auto-blend technology starts and stops on its own.
- Noise reduction cover minimizes noise level.
- Reaches 3.5 peak horsepower with a 32,000 RPM motor.
- Allows for pulse and variable speed control.
- Container is made with durable BPA-free Tritan.
- Includes a to-go tumbler that can be vacuum sealed using the blender.
- Easy to use and clean.
- Includes a recipe book for ideas and inspiration.
WHAT'S INCLUDED: Motor base, blender container, noise reduction cover, lid, to-go tumbler with lid, manual, recipe book.

Dimensions: 8.5 x 17.6 x 9.5 inches
Weight: 13.5 lbs
RPM: 32,000 rpm
Voltage: 120 V, 60 Hz, 1,700 W
Materials: ABS, TRITAN, STS304, TPE, ABS
Warranty: 7-year limited warranty

Made in South Korea.

CALIFORNIA PROPOSITION 65 WARNING: This product contains chemicals including butadiene, known to the State of California to cause cancer and birth defects or other reproductive harm. For more information, go to www.p65warnings.ca.gov.
Customer Reviews
Write a Review
Ask a Question
Filter Reviews:
blender
smoothies
container
Kuvings
fact
Temper
price point
star rating
five
reason
07/07/2022
Raju M.

United States
Best blender
Best blender, consistent and colorful smoothies!
04/27/2022
MaryEllen H.

United States
Vacuum Blender SV500S
I love this vacuum blender it makes my smoothies so creamy & easy, done much more quickly than my old blender & stays just as fresh the next morning as when I made it the day before..so far I am measuring things out as the container is not as big as my old blender was, so I don't want to overfill..that's fine, ingredients are more uniform this way…& I only made this amount in the old blender anyway..& clean up has been very easy..wash under warm water as soon as I'm done & dry it with a dry cloth..Love the recipes included too that is a physical book as is the instruction book. Other things you buy these days you have to get a digital copy & use your printer to copy if you don't want to have to keep looking up things online..thank you :)
04/04/2022
Maria V. Bauer

United States
Good Blender Overall
I was very impressed with the concept of a vacuum blender and after much research, the Kuvings seemed to be the blender most suited for my needs. It was a bit of a rocky start because I did not receive the model that I had ordered. The manual was also incorrect when referring to the tumbler and it's construction. It took a while to get everything straightened out with customer service. At the end, Kuvings confirmed my blender to be the latest model with an also redesigned tumbler but not figuring on the Kuvings or other websites (photo included with review). The blender has so far been doing a good job with vacuuming and blending. Most of the time I get a great consistency with the automatic cycles. When adding oranges, I found I need to continue blending manually to achieve the desired consistency. All in all, it's a very nice and efficient blender. The size of the container is also exactly right for me. At this time I'm giving it 4 stars because I found two small plastic threads hanging from the rim of the container after making a smoothie and had to be removed. I'll have to keep an eye on this. Thanks to the Kuvings staff for being there to answer my questions.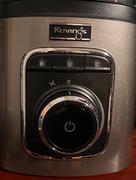 08/09/2021
Jennifer M.

United States
yay for smoothies!
I've been wanting this blender for a long time. I love it! I really like the fact that it's easy to clean. I don't have to worry so much about getting hurt by the blades because they aren't so obviously sharp like usual; but when it's time to blend it blends perfectly smooth and it tastes great! Thank you! :)
yay for smoothies!
I've been wanting this blender for a long time. I love it! I really like the fact that it's easy to clean. I don't have to worry so much about getting hurt by the blades because they aren't so obviously sharp like usual; but when it's time to blend it blends perfectly smooth and it tastes great! Thank you! :)