Get the most from your juicer with the EVO820. With its 3.2-inch feed chute and two-way flip gate, the EVO820 is our widest and most innovative household juicer to date. The 4-in-1 juicer extracts fresh juice, creates thick smoothies, and produces velvety sorbets and nut milks. It's easy to juice a variety of ingredients with the new flip gate design—just drop and juice. 

Whether you create nut milk, wheatgrass shots, green smoothies, celery juice, or fruit sorbet, the EVO820 brings exceptional quality and taste to your active lifestyle.
- 3.2-inch wide mouth feed chute accommodates whole ingredients, reducing prep time.
- Low-speed masticating technology eliminates heat and oxidation damage for maximum nutrient preservation.
- Two-way flip gate effortlessly drops ingredients into the juicer, and locks into place to create a smaller opening for leafy greens.
- Includes smoothie strainer for rich, creamy smoothies.
- Includes blank strainer for melt-in-your-mouth sorbets.
- Leather-like finish comes in 4 stylish colors.
- Quiet 240-watt motor effortlessly crushes hard ingredients like root vegetables.
- Drip-free smart cap controls juice flow and helps to create mixed juices.
- BPA-free components protect juice from unwanted chemicals.
- Compact design fits under most kitchen cabinets.
- Includes strainer-cleaning tool and 2 additional brushes for quick cleanup.
- Includes a recipe book for inspiration.
WHAT'S INCLUDED: Juicer base, juicing topset (lid, juicing bowl, auger, juicing strainer, rotation wiper, smart cap), pusher, smoothie strainer, blank strainer, juice cup, pulp cup, pulp strainer, cleaning tool, cleaning brush, round brush, lid opener, manual, and recipe book.

Dimensions: 8 x 9.5 x 19 inches
Weight: 16 lbs
RPM: 60 rpm
Voltage: 110-120 V, 60 Hz, 240W
Materials: ULTEM™, Tritan™, ABS, PC, Stainless Steel (STS304)
Warranty: 10-Year Limited Warranty

Made in South Korea.

CALIFORNIA PROPOSITION 65 WARNING: This product contains chemicals including butadiene. For more information, go to www.p65warnings.ca.gov.

Healthy habits start here
You save quite a bit of time by not having to chop things so stringently, and it does a universally better and more efficient job.
This juicer squeezed out luxurious juices that had the brightest flavors of any we tried.
Extremely effective and easy to use. It has a slim profile and assembles quickly.
The Whole Slow Juicer produced the richest, most velvety juice we tried during our taste tests. If you want a juicer that does it all, this is the only one.
Better method for better juice
Centrifugal juicers shred and spin ingredients using high speed, which creates heat and nutrient damage. Their juice is watered-down, foamy, and rancid after 24 hours. Masticating juicers, like the EVO820, use low speed to gently crush and press ingredients into the most nutrient-rich juice. Their juice is pure, silky-smooth, and can be stored for up to 72 hours. 
More Nutrients
Plant cells are more thoroughly crushed by an auger than blades. For that reason, green juice contains more polyphenols, flavonoids, and protease enzymes than a green smoothie with the same ingredients.
Diversify Diet
There are so many nutrient-rich foods that are difficult to ingest in their whole form. Juicing these ingredients provides an easier and more palatable way to get their benefits.
Fast Absorption
When raw fruit and vegetables are consumed in liquid form, your body can absorb their nutrients easier and faster than whole ingredients. This is because there are no solids to interfere with absorption.
Additive-Free
You know exactly what you're putting into your body when you drink homemade juice. There are no artificial colors, preservatives, sugars, or corn syrups added, unlike store-bought juice.
Kid-Friendly
By juicing vegetables with fruit, kids can enjoy sweet, silky-smooth juice and still get the nutrients they need.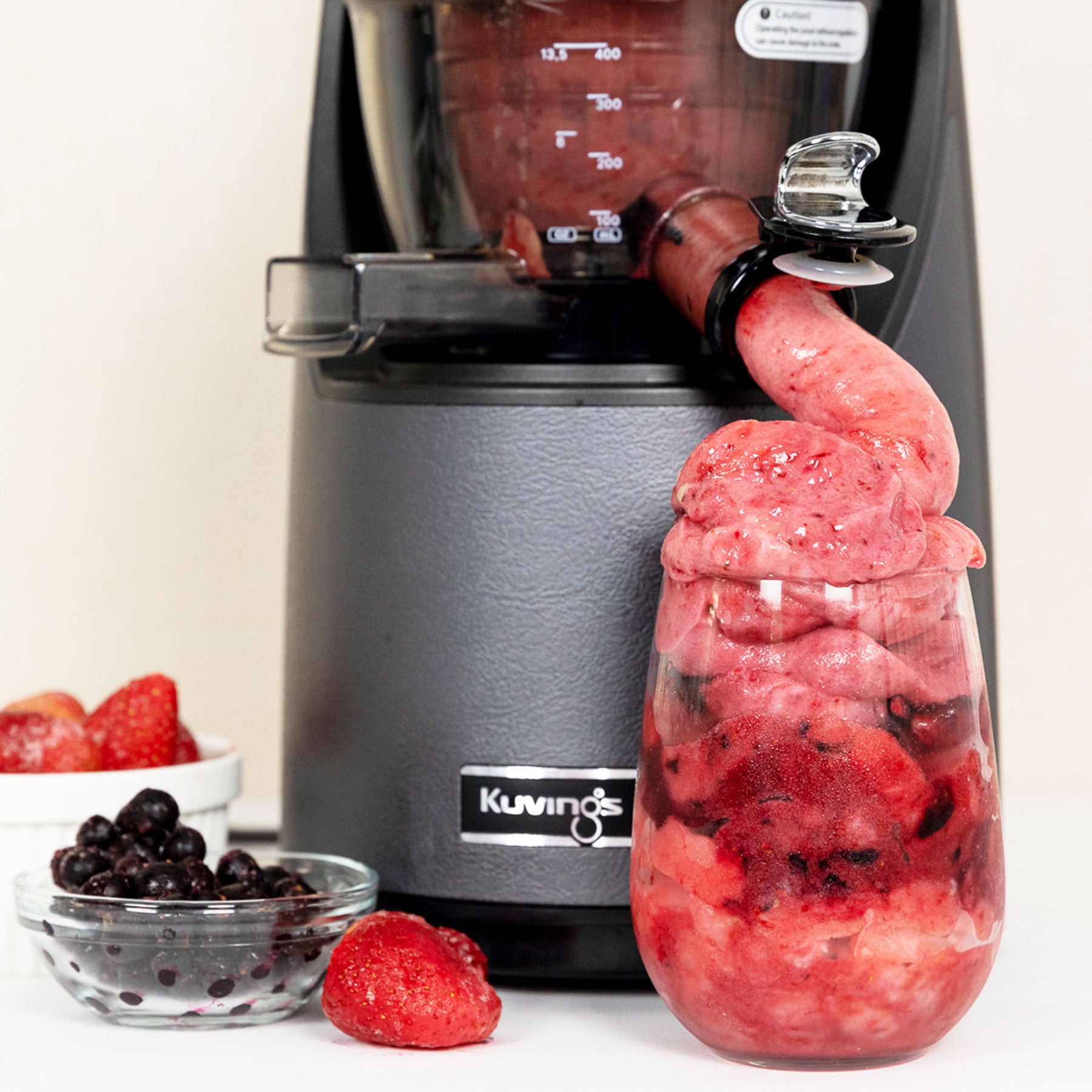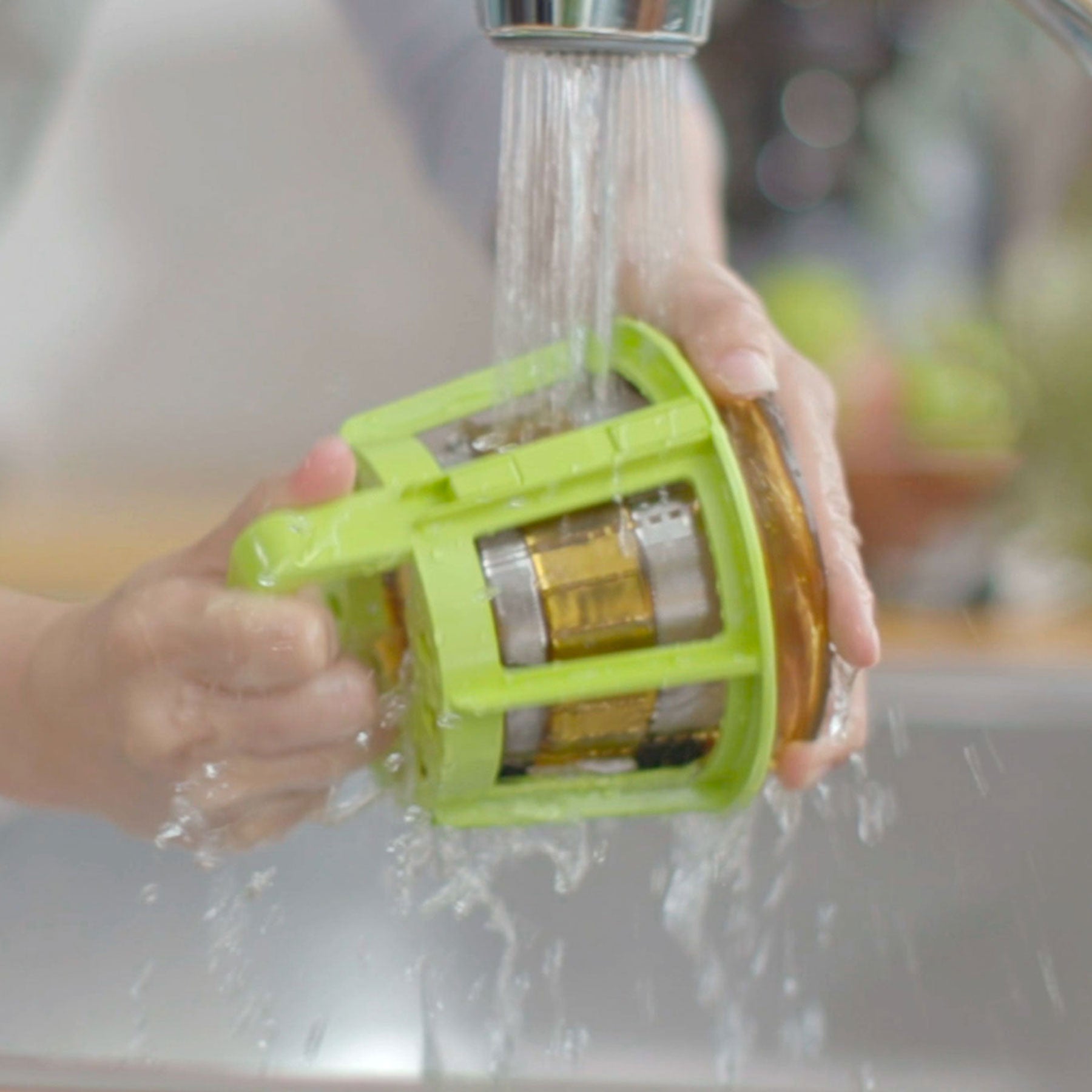 "Preserves more nutrients and makes less noise."
Eva @splashofgoodness
"Super efficient, and the quality of the juice is amazing."
Dasha @littlekalegirl
"Hands down one of my favorite kitchen appliances."
Sagen @thekitchendancepartii
"It squeezes out everything! No food waste around here!"
Katie @theallnaturalvegan
What about the removed fiber?
The yielded juice will mostly contain soluble fiber. Majority of the insoluble fiber is removed, but some still remains.
Isn't the sugar from fruits bad for you?
Natural sugars from juice offers nutrients that keep your body healthy. These sugars will keep your metabolism stable throughout the day.
How loud is the juicer when operating?
Slow juicer's motor turns slowly, creating less noise than traditional high-speed juicers. The noise is at about conversation level.
Sorbet & Smoothie Strainers