USA ONLY (Not available in Canada)
Upgrade your blending experience with the all-new Kuvings Vacuum Blender. The Kuvings Vacuum Blender creates fresher, longer-lasting beverages by removing air from the container before blending. This prevents air from mixing in with ingredients, resulting in reduced oxidation and maximized nutritional value. The noise reduction shield with built-in vacuum pump keeps the blending process quiet. Includes a to-go tumbler to vacuum seal beverages. For more nutrients, vibrant colors, crisp flavor, and maximum freshness, choose the Kuvings Vacuum Blender.
- Vacuum blending system removes air before blending.
- Auto-blend technology starts and stops on its own.
- Noise reduction cover minimizes noise level.
- 32,000 RPM motor.
- Allows for pulse and variable speed control.
- Container is made with durable BPA-free Tritan.
- Includes a to-go tumbler that can be vacuum sealed using the blender.
- Easy to use and clean.
- Includes a recipe book for ideas and inspiration.
WHAT'S INCLUDED: Motor base, blender container, noise reduction cover, lid, to-go tumbler with lid, manual, recipe book.

Dimensions: 8.5 x 17.6 x 9.5 inches
Weight: 13.5 lbs
RPM: 32,000 rpm
Voltage: 120 V, 60 Hz, 1,700 W
Materials: ABS, TRITAN, STS304, TPE, ABS
Warranty: 7-year limited warranty

Made in South Korea.

CALIFORNIA PROPOSITION 65 WARNING: This product contains chemicals including butadiene. For more information, go to www.p65warnings.ca.gov.
Customer Reviews
Write a Review
Ask a Question
Filter Reviews:
blender
smoothies
container
everything
Kuvings
fact
five
reason
flavor
color difference
04/04/2022
Maria V. Bauer

United States
Good Blender Overall
I was very impressed with the concept of a vacuum blender and after much research, the Kuvings seemed to be the blender most suited for my needs. It was a bit of a rocky start because I did not receive the model that I had ordered. The manual was also incorrect when referring to the tumbler and it's construction. It took a while to get everything straightened out with customer service. At the end, Kuvings confirmed my blender to be the latest model with an also redesigned tumbler but not figuring on the Kuvings or other websites (photo included with review). The blender has so far been doing a good job with vacuuming and blending. Most of the time I get a great consistency with the automatic cycles. When adding oranges, I found I need to continue blending manually to achieve the desired consistency. All in all, it's a very nice and efficient blender. The size of the container is also exactly right for me. At this time I'm giving it 4 stars because I found two small plastic threads hanging from the rim of the container after making a smoothie and had to be removed. I'll have to keep an eye on this. Thanks to the Kuvings staff for being there to answer my questions.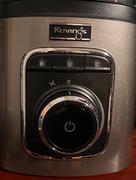 01/13/2023
jaydeep c.

United States
Really like your service
My vacuum blender was having some issues. And they fixed it . I would recommend to all people. Amazing service and now my vacuum blender is working awesome . Thanks again.
10/02/2022
Maria V. Bauer

United States
Follow-up on Blender
Thought I'd add a follow-up after using the blender for quite some time. Unfortunately, it doesn't come without flaws. It does emit an unpleasant odor when blending frozen fruits and ice. It's often strong. I've had it exchanged and the same thing happened. I was told that the odor goes away after several uses. I used it repeatedly for a few days and the odor waned. However, after not using for a couple days, the odor intensified again. The odor does not go away so it seems that this blender struggles with ice/frozen fruits. It will do well only with items that are not frozen. This is a disappointment. Based on the price and it's inefficiency in handling ice/frozen fruits, I'll have to drop the rating to 3 stars.
08/02/2022
antoinette p.

United States
antoinette
I hate this machine it's a lot of trouble and very confusing I try to make almond butter nothing with mix I had to throw all my ingredients out I made almond milk it made it hot
07/07/2022
Raju M.

United States
Best blender
Best blender, consistent and colorful smoothies!