Revolutionize your juicing experience with the REVO830. Optimized for carrots and celery, the REVO830 features a new Auto-Cut Chute that automatically chops long, fibrous ingredients. The bladeless chopping mechanism cuts and presses perfectly-sized pieces at a time, minimizing food waste while maximizing juice yield.
Equipped with an extra-large 3.5-inch feed chute, the REVO830 also accommodates whole ingredients such as apples and beets. Included are attachments to make thick smoothies, silky sorbets, and creamy nut milk.
From long celery sticks to whole apples, the REVO830 cuts down ingredients and prep time.
- 1.75-inch Auto-Cut Chute allows carrots and celery to be inserted without pre-cutting.
- Powerful auger automatically chops long, fibrous ingredients into an optimal juicing size.
- 3.5-inch extra-wide feed chute accommodates whole ingredients, reducing prep time.
- Newly designed base and 240-watt noise reduction motor deliver quiet power.
- Flip gate effortlessly drops ingredients into the juicer.
- Low-speed masticating technology eliminates heat and oxidation damage for maximum nutrient preservation.
- Wider juice and pulp spouts make the parts easier to empty and clean.
- Sleek juice and pulp cups can be interchanged depending on the quantity of juice made.
- Includes smoothie strainer for rich, creamy smoothies.
- Includes blank strainer for melt-in-your-mouth sorbets.
- BPA-free components protect juice from unwanted chemicals.
- Includes strainer-cleaning tool and brush for quick cleanup.
- Includes a recipe book for inspiration.
WHAT'S INCLUDED: Juicer base, juicing topset (lid, juicing bowl, auger, juicing strainer, rotation wiper, juice cap), smoothie strainer, blank strainer, pusher, juice cup, pulp cup, cleaning tool, cleaning brush, round brush, lid opener, manual, and recipe book.

Dimensions: 10 x 8 x 19 inches
Weight: 16.5 lbs
RPM: 50 rpm
Voltage: 110-120 V, 60 Hz, 240W
Materials: ULTEM™, Tritan™, ABS, PC, Stainless Steel (STS304)
Warranty: 15-Year Limited Warranty

Made in South Korea.

CALIFORNIA PROPOSITION 65 WARNING: This product contains chemicals including butadiene. For more information, go to www.p65warnings.ca.gov.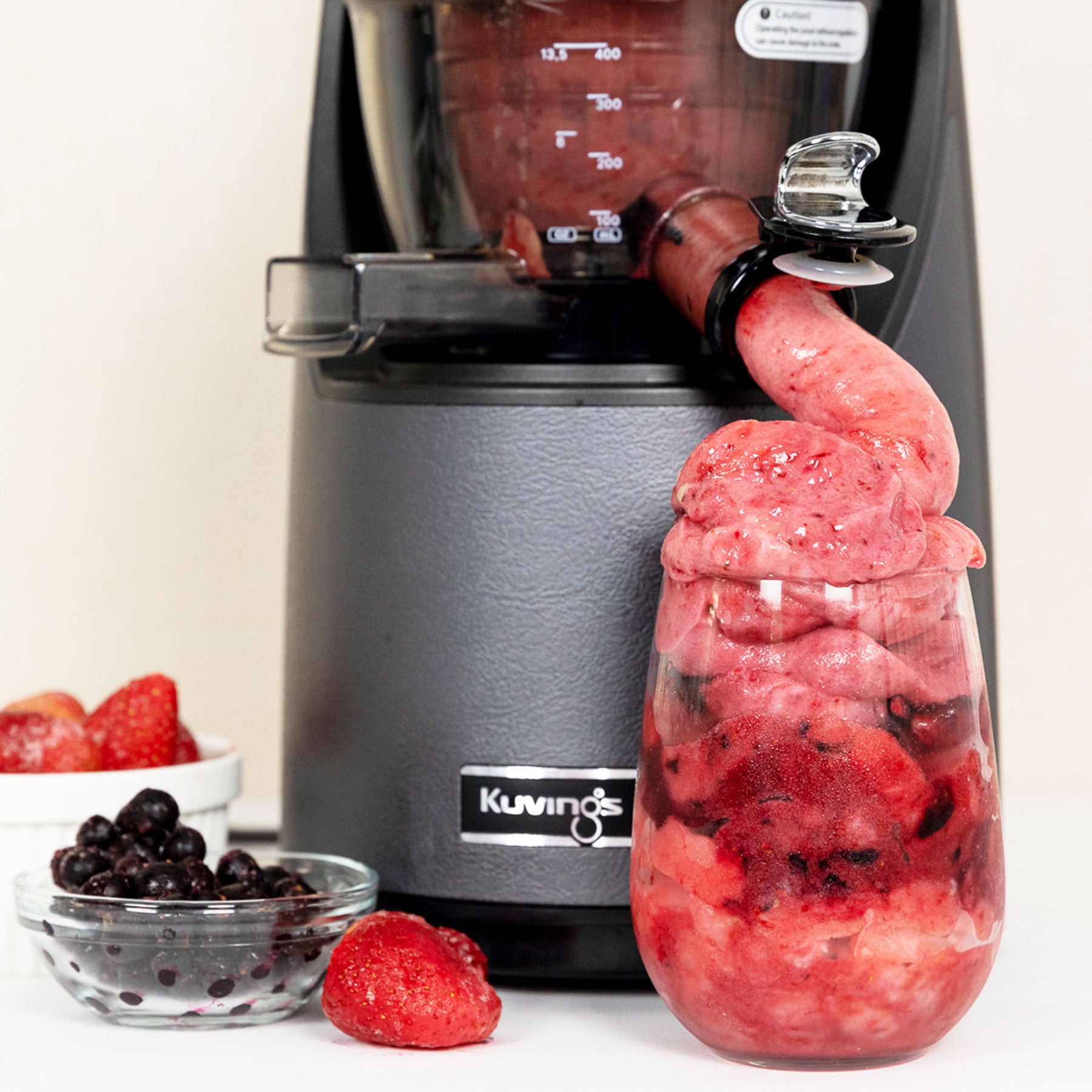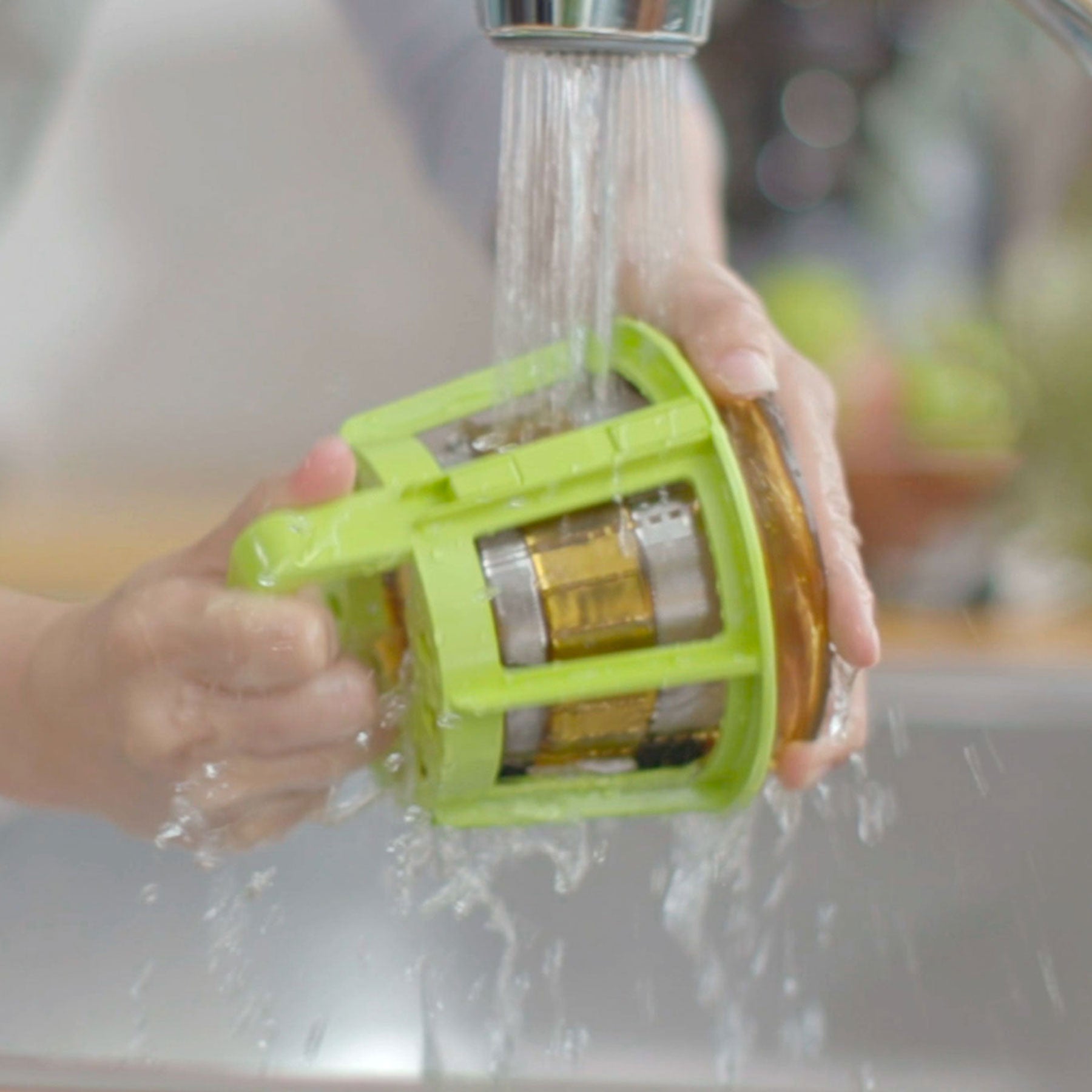 Sorbet & Smoothie Strainers
2 Feed Chute Options
The revolutionary new lid includes 2 feed chutes, optimized for different ingredient types. The 3.5-inch flip gate can accommodate whole fruits and vegetables, while the separate Auto-Cut Chute feeds narrow ingredients, such as carrots and celery, into the cutting screw.
Auto-Cut Technology
The Auto-Cut Chute is designed for ingredients like carrots, celery, and cucumbers, which are considered the most difficult ingredients to juice. When these long, fibrous ingredients are inserted into the Auto-Cut Chute, the screw chops the ingredients into perfectly-sized pieces for juicing.
Upgraded Motor
The REVO830 is built with our most heavy-duty motor for household use. It has a longer continuous run time, delivering up to 45 minutes of nonstop juicing with quiet power.
Easy to Clean
We provide a unique strainer-cleaning tool, plus additional brushes, to make cleanup fast and easy.
"THIS is the juicer you need to invest in!"
Shenaz @munching_meals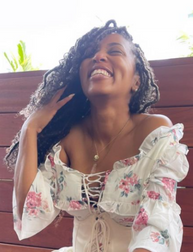 "It's super easy to use and clean."
Elena @getwell.withelle
"Makes juicing carrots and celery a breeze!"
Debbie @askdebbieabouthair
"Significantly reduced my prep time."
Harold @haroldleffall
More Nutrients
Plant cells are more thoroughly crushed by an auger than blades. For that reason, green juice contains more polyphenols, flavonoids, and protease enzymes than a green smoothie with the same ingredients.
Diversify Diet
There are many nutrient-rich foods that are difficult to ingest in their whole form. Juicing these ingredients provides an easier and more palatable way to get their benefits.
Fast Absorption
When raw fruits and vegetables are consumed in liquid form, your body can absorb their nutrients easier and faster than whole ingredients. This is because there are no solids to interfere with absorption.
Additive-Free
You know exactly what you're putting into your body when you drink homemade juice. There are no artificial colors, preservatives, sugars, or corn syrups added, unlike store-bought juice.
Kid-Friendly
By juicing vegetables with fruit, kids can enjoy sweet, silky-smooth juice and still get the nutrients they need.
What about the fiber?
Juice contains soluble fiber, and pulp contains insoluble fiber. Both types have different health benefits. There's no need to toss out your juice pulp—there are plenty of ways to reuse it.
REVO830 vs. EVO820: what's the difference?
Both are cold press juicers that can make juice, nut milk, sorbet, and smoothies. However, the REVO830 is also equipped with an Auto-Cut Chute for chopping carrots and celery.
Why is it called a "slow juicer?"
The REVO830 is called a slow juicer because it only needs to operate at 50-60 rotations per minute. It still extracts juice within seconds.